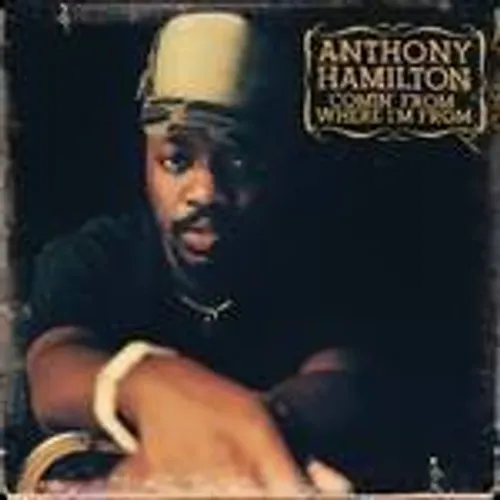 Details

Format: CD
Label: SO SO DEF
Catalog: 52107
Rel. Date: 09/23/2003
UPC:

828765210720
Formats and Editions
Reviews:
''Comin' from Where I'm From'' is the second studio album by American R&B and soul singer-songwriter Anthony Hamilton, released July 15, 2003 on Arista Records in the United States. It debuted and peaked at number thirty-three on the U.S. ''Billboard'' 200 chart in October 2003 with first-week sales of 33,000 copies, spending seventy-six weeks on the chart. The run was longer on the Top R&B/Hip-Hop Albums chart, where it debuted at number seven (reaching its peak position of number six the following week) and stayed for one hundred weeks.
''Comin' from Where I'm From'' achieved platinum certification from the Recording Industry Association of America (RIAA) in early December 2004, having sold 1.2 million copies in the United States. The single "Charlene", Hamilton's most successful single to date, peaked at number nineteen on the ''Billboard'' Hot 100 and reached the top five of the Hot R&B/Hip-Hop Songs. The album earned Hamilton three Grammy Award nominations in 2004—Best Traditional R&B Vocal Performance, Best R&B Song (both for the title track "Comin' from Where I'm From"), and Best Contemporary R&B Album—and one in 2005—Best Male R&B Vocal Performance for "Charlene". - Wikipedia
Are the old ways the best ways? Sometimes, sometimes not. In 2003, they mostly represent one way among many, which doesn't stop R&B puritans from decrying the fact that the good old days are no more-and which will doubtless contribute to the slow and steady rise of South Carolina native Anthony Hamilton. He's a session vocalist who's sung background for D'Angelo, and on Comin' From Where I'm From he's as old-school as it's possible to be at this late date, from the very '70s electric keyboards that ground most of the songs to the churchy background vocals that he cannily mixes as high as his own leads. Hamilton's got a wonderfully thick baritone, gravelly or smooth as he needs it to be, and occasionally, as on "Lucille," he even ratchets up to a breathy, whispery, utterly beguiling near-falsetto.
But Hamilton's songwriting on Comin' From isn't quite at the level of his singing. Sometimes he nails it: "Lucille" moves from a sly Kenny Rogers quote-turns out she's picked a fine time to leave him-to a harrowing, heartbroken tale of a woman who leaves a good man (Anthony, natch) for a man who beats her. But Hamilton's unpretentious-everyman ethos, reminiscent of previous soul men like Bill Withers or Dobie Gray, comes up dry more often than you might like. Making celebrations of the ordinary interesting to any degree is damn hard work; Hamilton makes it all look easy, but sometimes he makes it look tossed off, too.
back to top