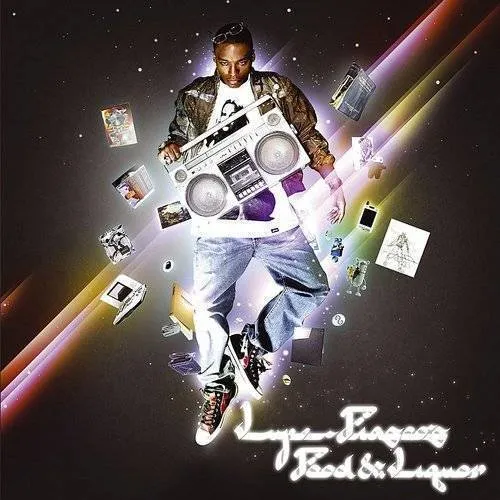 Details

Format: CD
Label: Wea/Atlantic
Catalog: 83960
Rel. Date: 09/19/2006
UPC:

075678396021
Food and Liquor [Clean] [Edited]
Artist:
Lupe Fiasco
Format:
CD
New:
Not in stock
Wish
Formats and Editions
Reviews:
''Lupe Fiasco's Food & Liquor'', commonly referred to as ''Food & Liquor'', is the debut studio album by American recording artist Lupe Fiasco, released on September 19, 2006, on 1st & 15th Entertainment and Atlantic Records. The album features production from The Neptunes, Kanye West, Mike Shinoda, Craig Kallman, Prolyfic, Needlz, Soundtrakk, and Brandon Howard. Jay-Z, Chill, and Fiasco himself are credited as the executive producers for the album.
Originally, the album was reported to have debuted at number 12 on the ''Billboard'' 200; however, due to incomplete Nielsen SoundScan reports, the album actually debuted at number eight, even though the album had produced no top ten singles.
The first international single off the album was "Kick, Push". The song stated Fiasco's love for skateboarding. The second single in Europe was "Daydreamin'" (featuring Jill Scott) which features a sample of I Monster's cover of "Daydream in Blue." The second single in the U.S. (and the third international single) was "I Gotcha" which is produced by The Neptunes. The song's video was featured on MTV's "Making the Video." Fiasco held a poll on his MySpace profile, where fans were able to vote for which song they wanted to be made into a music video.
The album received four Grammy Award nominations, including Grammy Award for Best Rap Album at the 49th Grammy Awards. Its fourth nomination produced a win as it won the Best Urban/Alternative Song at the 50th Grammy Awards for his track "Daydreamin'" featuring Jill Scott. - Wikipedia
back to top